As adoption of RealWear® head-mounted tablet (HMT) devices took off over the past year, we've seen two major areas industrial companies are looking to address with this assisted reality technology.
The first is remote expert/assistance, where a technician dials out to an expert located elsewhere who guides them through processes and helps with decision-making through see-what-I-see technology (think hands-free FaceTime with the camera pointed at what you're looking at instead of your face).
The second area is workflow apps, where technicians are guided through processes and capture structured data through the HMT device itself. With workflow apps, RealWear® devices can be used to execute frontline processes that require functionalities like data input validation, photo capture, integration with other systems and more. Below we list the leading use cases we've seen for RealWear® workflow apps.
1. Inspections
Look around any industrial facility and it'll be hard not to spot someone busy with an inspection process of some kind. Inspection processes are so ubiquitous because they are so necessary: there's still no real substitute for physical inspections when it comes to making sure things are working the way they should.
Inspection processes are not only useful for confirming safety, operational readiness and compliance at a point in time, they can also allow data analysis that:
reveals operational inefficiencies,
highlights opportunities for preventative maintenance,
validates equipment is performing as advertised,
Inspections require the collection of structured data, and RealWear® + JourneyApps allows that data to be collected on wearable voice-driven devices.
Inspection apps for RealWear®
With JourneyApps industrial companies can create tailored inspection apps that follow the steps and structure unique to their inspection processes, including the ability to:
Select data with voice commands (e.g. from a list of assets/processes).
Complete checklists hands-free.
Take photos and associate them with specific steps in an inspection process.
Automatically create work orders for equipment/parts that have failed inspection.
Synchronize all captured data to a central database.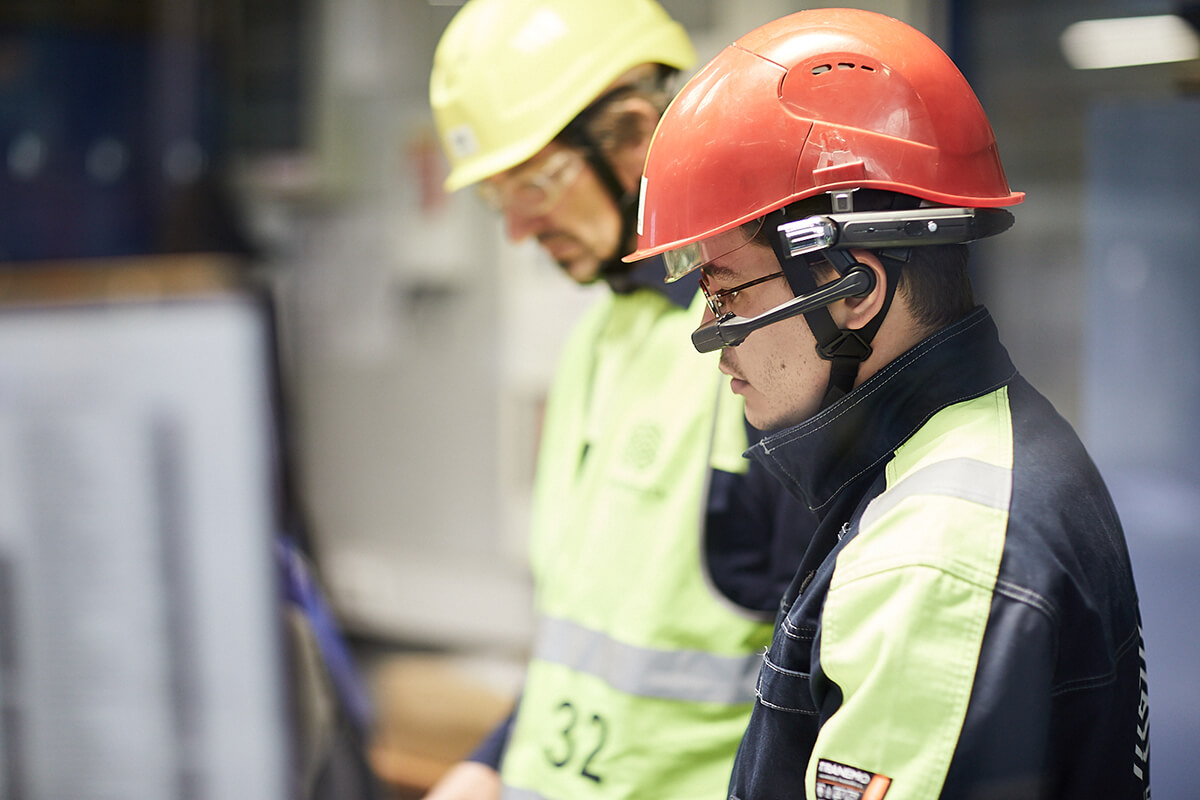 2. Guided Work Instructions
Guided work instructions include processes like Standard Operating Procedures and Standard Maintenance Procedures (SOPs/SMPs); but generally refers to any process where a user needs to reference specific steps required to complete a task.
We've seen a need for apps that facilitate work instruction processes both for training and on-site work execution. In fact, outside of SOPs, the need often arises from the realization that workers can be more effective if they have easy access to relevant training materials on site.
Guided work instruction apps for RealWear®
Accessing guided work instructions on RealWear® + JourneyApps is like referencing your GPS navigation system while you drive – you're shown exactly what to do and when to do it without having to use your hands or scan through information with your eyes (who remembers map books?).
With JourneyApps, companies can implement work instruction apps that:
Guide users through work instructions or procedures, step by step.
Show users to images or even 3D models of equipment related to instructions.
Allow users to call out to expert technicians for guidance if they get stuck.
3. Operator Rounds
We've seen a growing number of industrial companies considering RealWear® for operator rounds previously executed with lower-tech, manual procedures. One of our Fortune 200 industrial customers conducted a real-world experiment to measure the ROI of moving from tablets to assisted reality and found that operator rounds were completed about 50% faster when using a voice-driven app on RealWear® compared with traditional touch-screen tablets.
Operator rounds apps for RealWear®
Operator rounds typically consist of completing checklists, with other data capture requirements such as photo/video capture and logging comments coming into play for exception reporting. JourneyApps covers all functionality required for operator rounds including:
Checklist completion through voice.
Inputting free text comments through dictation.
Logging exceptions and adding photos and/or videos.
Making operator rounds data available to other users.
Allowing users to browse through historical operator rounds data.
4. Safety Assessments
Conducting safety assessments is a critically important standard practice for today's industrial teams. Safety assessments are part of many operational processes and include job hazard assessments (JHAs), safe to proceed checklists, and journey management.
Thankfully, users are even safer conducting safety assessments through RealWear® devices than doing so on tablets or laptops because their field of vision is not obstructed and they can maintain an alert posture while they run through safety assessments.
Safety assessment apps for RealWear®
With JourneyApps, companies can implement safety assessment apps for RealWear® that allow:
Launching new safety assessments with voice.
Verbally completing checklists.
Real-time risk score calculation giving users feedback on the risk level of their jobs.
Conditional logic requiring additional assessment for higher risk jobs.
Automatically notifying management and other users of unsafe conditions.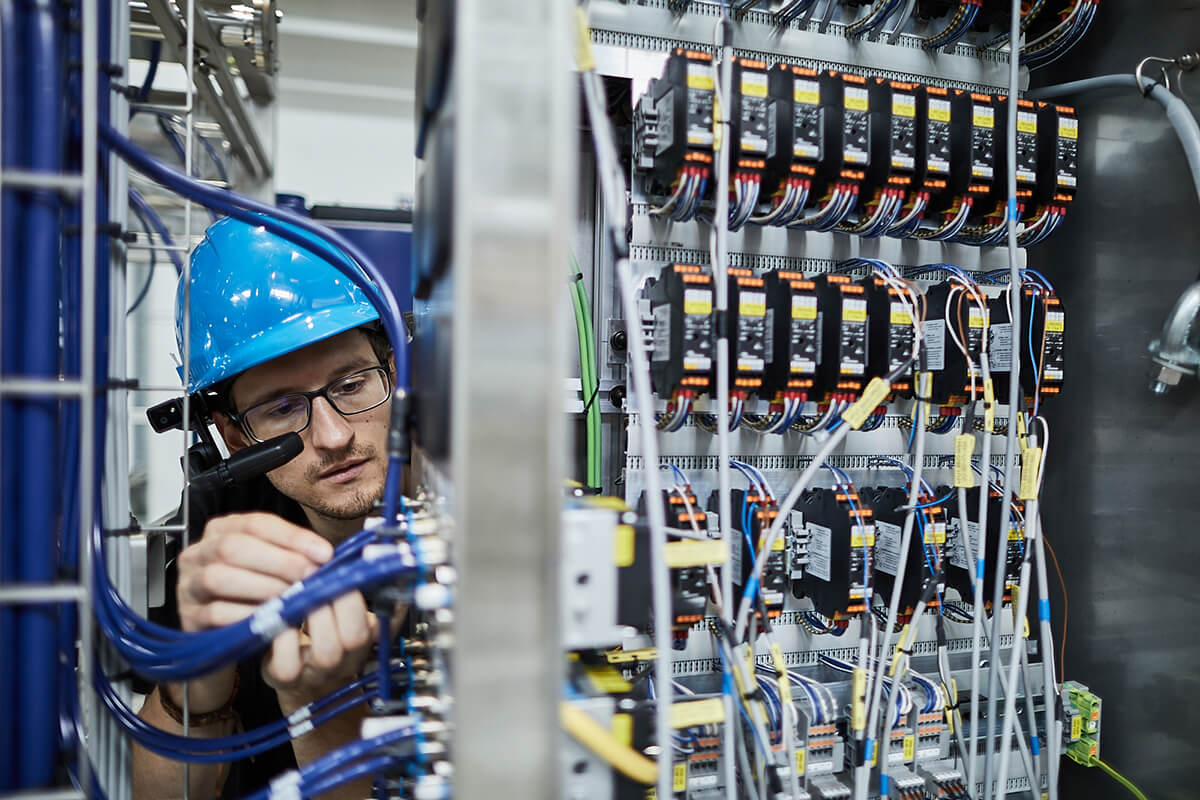 5. Maintenance/Work Order Tracking
Forward-thinking companies are already replacing the phones and tablets of maintenance teams with RealWear® devices. And they have good reason to: technicians need rugged devices that don't clutter their work environment and that can be used even with dirty hands or while wearing gloves.
Maintenance/work order tracking apps for RealWear®
These processes tend to be more complex, often consisting of more sophisticated non-linear workflows and requiring interaction with large databases of parts, jobs, customers and assets. Fortunately, JourneyApps is built to support highly complex workflows and large datasets. Maintenance apps build on JourneyApps allow:
Barcode scanning using the RealWear camera (e.g. for inventory tracking and logging parts used).
GPS location tracking, and map display.
Calculating totals, taking into account unique job costing, pricing and labor transformation rules.
Generating dynamic PDF reports and emailing them to customers or internal teams.
Collecting data in a central database for reporting through BI tools.
Conclusion
There's no shortage of use cases where workflow apps offer a strong business case for RealWear® investment. It could be that this, combined with the value of using RealWear® for remote expert capabilities, is what is driving RealWear® adoption.
Regardless, workflow apps remain a key to digitizing critical industrial processes and RealWear® provides an exciting new avenue for innovation.
If you're looking into using RealWear® for any of the processes mentioned above, contact us to schedule a demo of the functionality described here. You can also visit our RealWear page to get a sense of our RealWear capabilities and subscribe for notifications about new blog posts.