The fastest way to build & deploy custom enterprise mobile apps.
Work in the cloud — no software to install.
Code in JavaScript — run on Android and iOS phones & tablets.
No databases, API management or back-end development — Journey takes care of that automatically.
See How Journey Works: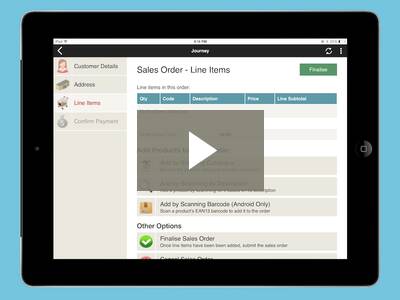 Simple, rapid UI &
business logic development
+
Fully integrated cloud backend-as-a-service with auto data sync
+
Effortless secure user enrollment & app updating
Get your first app running on your phone or tablet in the next 5 minutes:
The problem: Building apps is slow and painful
It is well accepted that building native iOS and Android apps from scratch is simply too expensive for most businesses. Therefore many developers turn to mobile app development platforms.
However, these platforms tend to fall in two camps:
Those that are still so complex that app development remains tedious, slow and expensive (typically cross-platform or HTML5 platforms). Such platforms also tend to leave you in the dark when it comes to critical things like creating a cloud-based back-end for your app and enrolling users.
Those that are too limited and simplistic to build serious apps (typically "form builders" and content-based app generators)
Journey takes the pain away
Journey was created when we realized that to build & run the vast majority of enterprise mobile apps, you only need a few key pieces of functionality, and you can cut vast amounts of complexity out of the traditional app development & deployment process.
Journey gives you exactly that essential mix of functionality — Rapid UI & business logic development, fully integrated cloud backend-as-a-service with auto data sync and effortless secure user enrollment — all in one simple package in the cloud.
Journey makes you 10x faster
Enterprise app development is difficult and slow; it takes months to build, test and deploy a complex business application. Journey lets you build the same high quality enterprise app in a few days. Many Journey developers tell us that they routinely deliver a fully tested enterprise app the day after they get the specifications (while still getting a good night's sleep).
No mobile experience required
Journey doesn't require complex and time consuming mobile coding. Applications are developed in JavaScript, and are deployed to Android or iOS devices with no further changes. The syntax is easy to pick up and master; many Journey developers start off with only basic programming experience and are proficient within a few days.
Eliminate back-end development
Back-end development for enterprise apps can be very difficult and time consuming. Normally you have to configure databases, manage data storage code, handle mobile connectivity issues and code APIs for integration. Journey does all of that heavy lifting — freeing you up to build great apps.
Deploy app changes in minutes
Journey shrinks the lengthy app deployment process into a one-click step. Instead of frustrating app store updates and manual installations, changes are pushed to your users automatically. Your users will always be running the latest version of your app.
What kinds of apps can be built on Journey?
Journey is for custom enterprise mobile apps — Here are some examples of these kinds of apps that can streamline companies' business processes:
Field Sales
Provide sales reps with apps to track sales visits, manage customers and issue custom sales quotes.
Logistics
Mobile apps for route sheets, waybills, electronic proof of delivery and parcel tracking.
Field Service
Provide technicians with apps for electronic job cards, time & material tracking, parts tracking, etc.
Trusted worldwide
Journey is used by global enterprises to build and manage their mobile business applications. They use Journey because it lets them build and deploy high-quality and secure enterprise apps in less time.
"The bottom line is that it just works."
"Journey is at the forefront of mobile app development."
"Journey was the fastest available option to implement this solution."
Are you a technology consultancy or development house?
Build a business on Journey.
Building internal mobile apps for businesses to improve their efficiency and communication is still a largely untapped billion dollar opportunity (compared to "consumer" mobile apps that receive the most attention in the press). This is the opportunity that Journey unlocks.
Join the leading edge consultancies who are building their business on Journey — freeing them up to focus on solving problems and creating value for their customers rather than struggling with technical complexities.
Ready to get started with Journey?