IT groups are often caught between maintaining legacy systems and quickly deploying new applications to support new and diverse priorities — without increasing their technology debt.
The first step in overcoming the burden of legacy systems is to change how you think about your systems and applications. Enter the Gartner Pace Layered strategy: Many large enterprises increasingly look to Gartner's Pace Layering concept to manage their information systems and applications.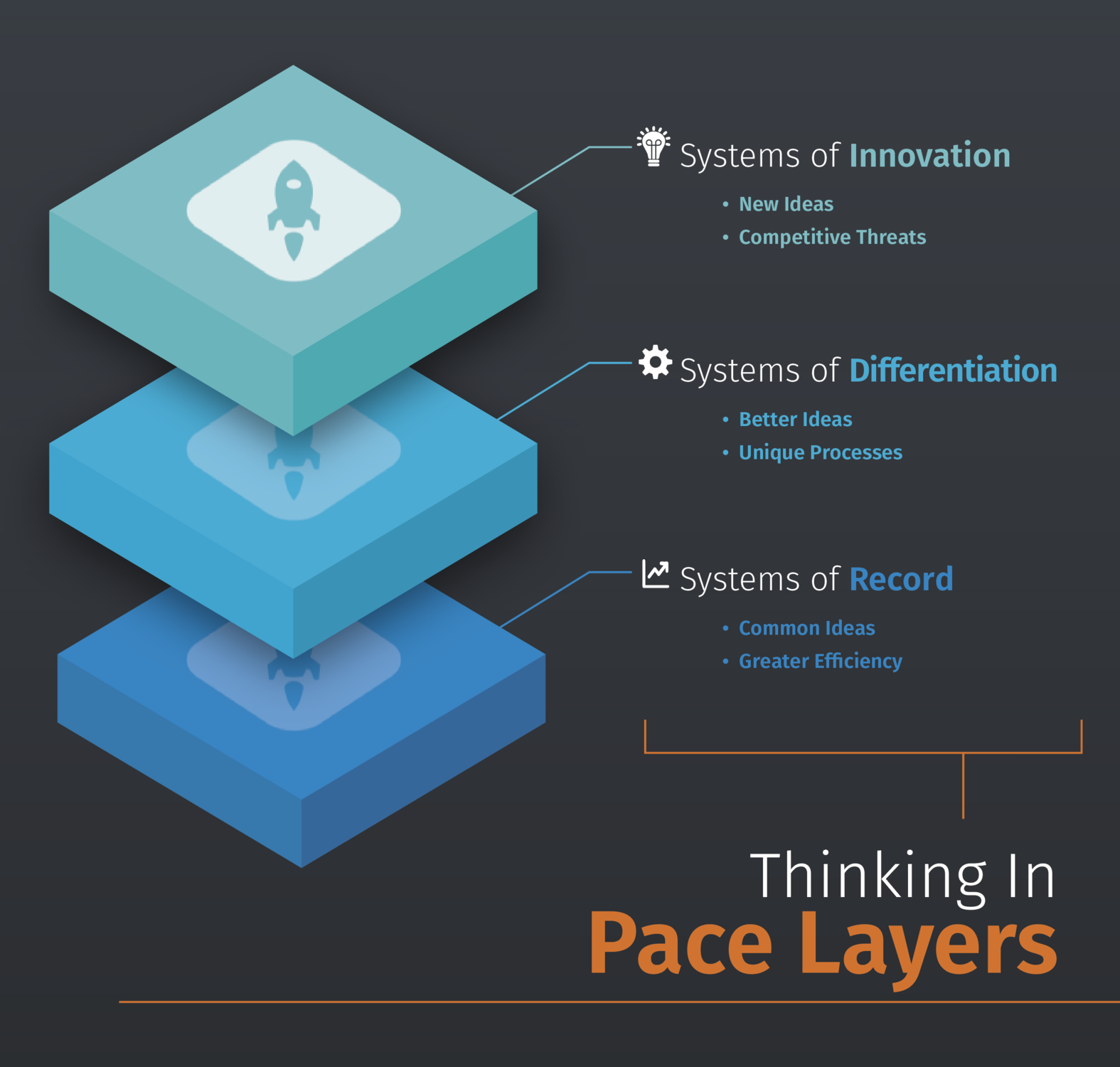 Gartner organizes application development into three categories, or Pace Layers: Systems of Record, Systems of Differentiation, and Systems of Innovation. By applying different governance models to each of the three Pace Layers, companies can innovate faster with Systems of Innovation while not sacrificing the comprehensive governance and control that is required for the bedrock Systems of Record on which the business depends.
In the Systems of Innovation Pace Layer, this is enabled by favoring experimentation over strict change control, highly agile practices over traditional waterfall development, and sustaining a much faster pace of change.
Working in Pace Layers is a first step in improving planning and alignment in your IT strategy, but is your IT environment equipped to handle the demands of Systems of Innovation and Systems of Differentiation?
At JourneyApps, we strategize and partner with our customers using Gartner's Pace Layering concept. By becoming a Systems of Innovation layer strategic partner, JourneyApps not only solves their business process bottlenecks and inefficiencies, but also helps them innovate faster to transform them into digital-enabled industry leaders.
Don't just take our word for it: Here are just a few customers we have partnered with to help them excel and thrive within their industries with strategic digital tools:
"Emerson follows the Gartner Pace Layered Strategy, and JourneyApps is a perfect fit as a platform for the Systems of Innovation layer."
Melissa Williams, Director: Global SMO Lifecycle Services, Emerson
"We have become big proponents of the JourneyApps agile iterative development process. It has really allowed us to go from concept to a solution in a very short timeframe."
Pat Davis, Vice President: Global Services, Aviat Networks
"I just don't know where you can go, to get a custom-designed app, that meets your exact needs, this quickly, this affordably, and with a partner that continues to work with you to ensure that they meet your very specific needs. I just don't see anyone else out there that can do that."
Marc Mertz, Vice President, GE Healthcare Partners
"JourneyApps acted as a subject-matter expert when it came to the development of apps and they guided us in the right direction, drawing from the knowledge and experience they had gained from working with many of our other customers. We are looking for a partner that actually plays that partnership role, that can make recommendations to us, and not just sit back and ask us what we want."
Tony Norris, Vice President: Lifecycle Services, Emerson
Contact us today for an intro meeting and let's see how we can transform your business for a digital tomorrow!